Lake of the Ozarks Air Show Acts & Entertainment
Come enjoy the amazing aerobatics as these daring pilots take the sky! We are bringing some of the best Air Show acts from all over the country to wow you at the 2022 Lake of the Ozarks Air Show.  Throughout the day there will be acts lighting up the sky while food vendors and kid activities line the tarmac.  Bring your chairs and blankets and plan to spend the day at this family fun Lake of the Ozarks event.  In between acts you can even get up close to the aircraft for pictures and to meet the pilots.  Take in the history of the aircraft and learn a little bit about aviation history all while have a full day of family fun!
KC Flight, an RV Formation Team, is Kansas City's largest homegrown civilian formation team. Founded in 2009 with 4 members, we continue to grow and currently have 14 members of which 10 are FFI (Formation Flying Inc.) carded pilots. The group's home base is Lee's Summit Airport (KLXT).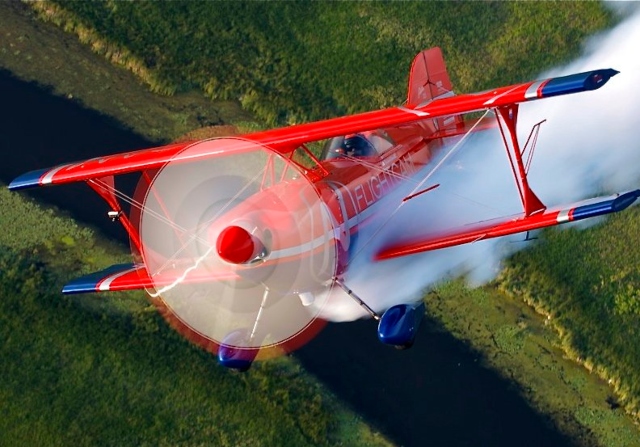 Unlike most airshow pilots, Brian Correll didn't grow up around airplanes as a child. However, he's more than made up for lost time in the air, accumulating over 5500hours in over 100 different models of aircraft from Piper Cubs to the Boeing KC-135 throughout his career. Brian's first exposure to aviation was an invitation from friends to join them on their first skydives. He was hooked and Brian had over 60 takeoffs in an airplane before experiencing his first landing, and the rest is, well as they say history.
The airshow airplane Brian flies is a modified Pitts S2S, much different than the original aircraft that left the factory in 1979. The red and blue Pitts Bi-Plane has been strengthened and modified making it capable of the extreme aerobatic routine that Brian puts his aircraft through. Some of these changes are visible like the squared-off wingtips and enlarged control surfaces, while others are "under the hood" giving the aircraft more power with less weight. Add it all up and the Pitts combines awesome performance with the nostalgic Bi-Plane style making it the perfect airshow platform.
Lee Crouch
Super Stearman
1940's vintage Super Stearman used as a trainer in WWII.  Crouch's biplane, built in 1941, differs from the original Navy trainer in several ways. It's got a more powerful engine. It was built by Boeing after the company took over the original Stearman operation in Wichita. Boeing built 13,000 airplanes, with 7,000 used for training and 6,000 for spares.  Crouch's biplane trained pilots in Texas, then became a crop duster between 1996 and 2001. Later, more than 7,000 man-hours went into restoring and updating the aircraft. Modifications improved the biplane's aerodynamic qualities.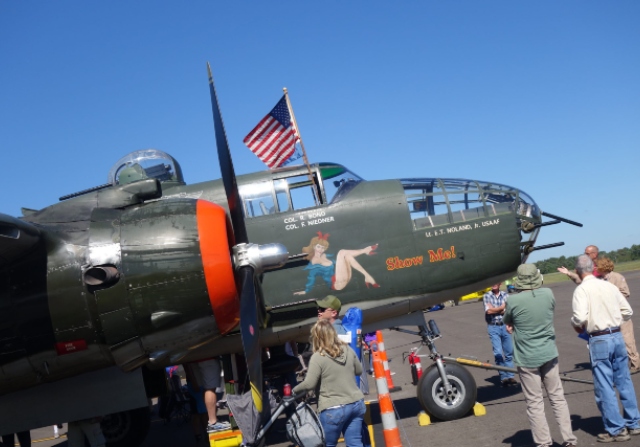 Commemorative Air Force
"Show Me" B-25J Mitchell World War II Bomber
Wartime Mission: The B-25J Mitchell was named after General Billy Mitchell, a famous Army Air Corps general of the 1920s and 1930s. It proved to be one of the best weapons and was possibly the most versatile aircraft of WWII. Heavily armed, it was utilized for high- and low-level bombing, strafing, photo-reconnaissance, submarine patrol, and a fighter. Its most distinguishing role was in the historic raid over Tokyo in 1942 by the Doolittle Raiders. The B-25J saw duty in every combat area flown by the Dutch, British, Chinese, Russian, Australian, and US forces. By 1947 there were only a few hundred B-25s remaining that performed a variety of training, reconnaissance, and support roles. Civilian use also included utility, transport, and agriculture duties.
B-25J Mitchell – "Show Me"
First flight: Aug. 19, 1940
Span: 67 feet 6.7 inches
Wing area: 610 square feet
Length: 53 feet
Weight: Empty, 21,120 pounds
Power plant: Two 1,700-hp Wright Cyclone supercharged 14-cylinder radial engines
Speed: 239 knots (275 mph)
Crew: 6
Range: In excess of 3,000 miles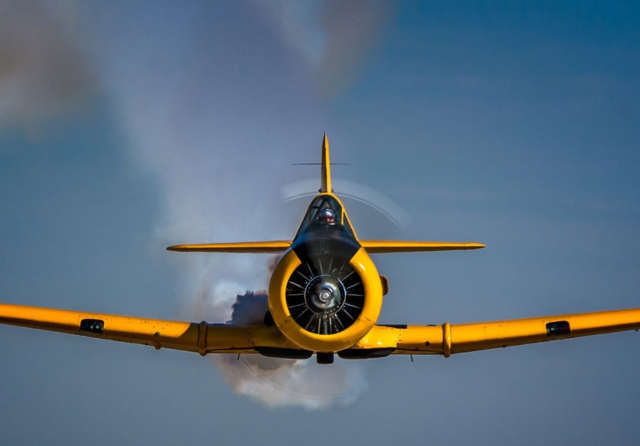 Jeff Shetterly
SNJ-6 Radial Rumble
Jeff is a West Point Grad and a third-generation aviator. He graduated from the United States Military Academy at West Point with a degree in Human Factors Engineering and served in the United States Army on M1A1 Abrams tanks. He was stationed in Germany and deployed several times to the Balkans, leaving military service in 2001.
The North American Aviation T-6 Texan is a single-engined advanced trainer aircraft used to train pilots of the United States Army Air Forces (USAAF), United States Navy, Royal Air Force, and other air forces of the British Commonwealth during World War II and into the 1970s. Designed by North American Aviation, the T-6 is known by a variety of designations depending on the model and operating air force. The United States Army Air Corps (USAAC) and USAAF designated it as the AT-6, the United States Navy the SNJ, and British Commonwealth air forces, the Harvard, the name it is best known by outside of the US. After 1962, US forces designated it the T-6. It remains a popular warbird aircraft used for airshow demonstrations and static displays. It has also been used many times to simulate the Japanese Mitsubishi Zero in movies depicting World War II in the Pacific.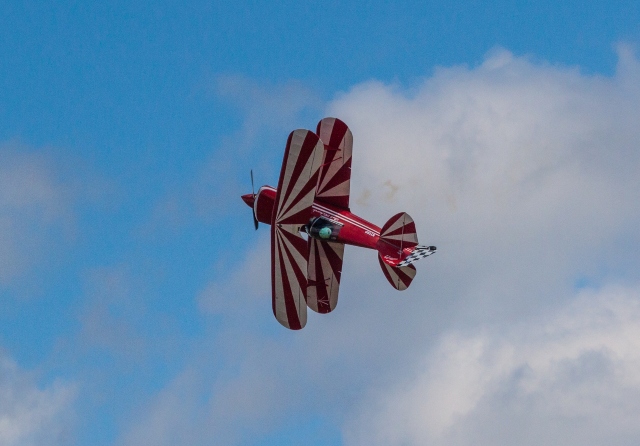 Bob Richards
Pitts S1C Bi-Plane
Returning to the Lake of the Ozarks Air Show, Bob Richards flies his Pitts S1C Bi-Plane in a low-level routine of aerobatic maneuvers. Bob will also be racing Kenny Caroll in a Bi-Plane vs race car duel as well as performing as part of Team Vortex.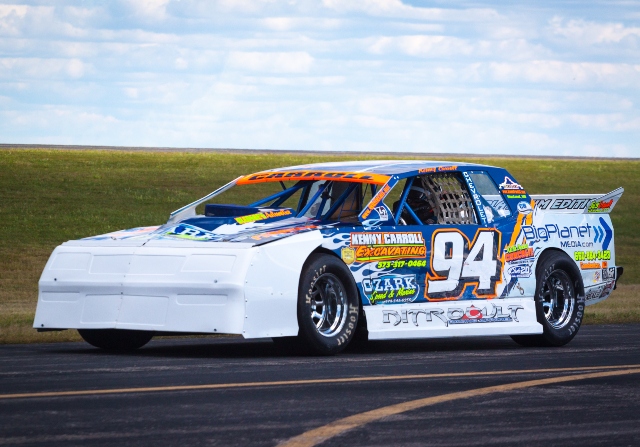 Kenny Carroll
Race Aerobatic Planes
Josh Franklin Motorsports prepared a 1985 Chevrolet Monte Carlo that races in Factory Stock class at Lucas Oil Speedway. All frames, floorboards, suspension points are all in stock location. The engine is Ozarks Speed and Marine prepared 428" small block. Over 700 hp, 3-speed manual transmission, weighing 3150 lbs with Kenny in it!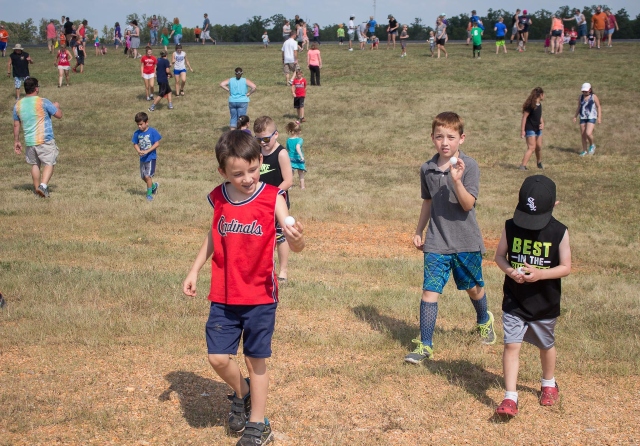 One of the more popular Lake of the Ozarks Air Show events is the Ping Pong Ball Drop. Hundreds of ping pong balls are dropped out of an airplane scattering over the airfield. The kids go out and retrieve the ping pong balls and return them for prizes. A few of the specially marked ping pong balls are marked for large prizes such as Big Surf Waterpark tickets.